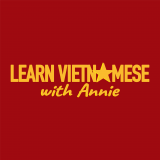 The only way to successfully learn conversational Vietnamese is by listening to conversations in Vietnamese. This is why the lessons from 'Learn Vietnamese With Annie' are based around short conversations. The conversations are fictional, but they all represent authentic spoken Southern-dialect Vietnamese, exactly as you will hear on the streets of Saigon. They also represent the interests, concerns, and conflicts of real people in the modern world. We call it the 'eavesdropping method' of language learning. By listening to people express love, hate, amusement, anger, agreement, disagreement, and so on – you will gradually acquire the language to do all these things, too.
Each lesson includes a discussion of the dialogue, wherein our two hosts – one speaking Vietnamese and one English – analyse each line of the conversation, offering explanations and elaborations on key words and structures. There is also a vocabulary review file, which allows you to simultaneously test yourself on the new words while also consolidating your learning. Then there is an exercise page, for further practice and consolidation of the words and structures.
The 'eavesdropping method' emulates natural language learning, in that it utilises massive exposure to language-in-context. A language cannot be learned successfully solely through the analysis of out-of-context linguistic items. This basic fact makes the 'Learn Vietnamese With Annie' app the most effective app on the market for learning spoken Vietnamese.
Download it and try out our free sample lessons now!